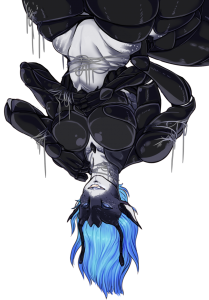 There is a Caption-Writing Contest going on right now!
I worked through the first parts of William's enormous orgy work. Like the Slavebreaker, this content is meant for after the slave's collars have been released. I still haven't gotten back to an option to release the slaves after you've already defeated Maike, but I intend to come back to it.
0.7.202 Changelog:
You may now encounter freed slaves having their way with bored Jumpers once the rebellion has been started. Expect lots of NPCs with lots of options
The slavebreakers can now drop a rare weapon – a heavy slut ray.
The slavebreakers can now drop a rare armor – Star Viper slutwear.
The slavebreaker bad-end now procs after approximately 4 losses.
New Bust: Biothroc Quaddie by FubMistress.
You should get your equipment back from slavebreakers when you lose the fight now.
Items which only stack to 1 no longer display a quantity on the button.
I'm going to try to have all the other options for the orgy put in tomorrow before the new WoW expansion launches. I might do a little streaming of it, brain permitting!