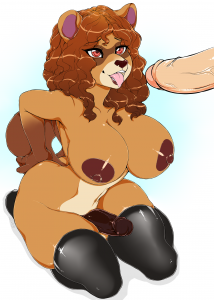 Despite the name, there's not a ton of overly sexy content added in this patch. Still, new stuff is new!
0.6.79 Changelog:
A new NPC has been added to Uveto: Kirila. A Codex for her race will be forthcoming.
Lots of new items have been added to Kirila's shop, many of them quite powerful.
Presently Kirila has no romantic encounters. Feel free to nag Kinathis to write some! :3
Some adjustments to "Dumb4Cum" perk.
Drone targeting options have been added.
Inessa's key can now be found, thanks to Sen Kanashimi picking up writing where JimT left off.
And some other stuff for content that won't be enabled till closer to Halloween! WHEEEE!
Kerblam! Now maybe I'll go review some stuff or put out a little writing! Who knows! The world is my oyster.
(Or is it?)
More Niis art, this time a Kiro that isn't quite anatomically correct (but is lovely all the same!)