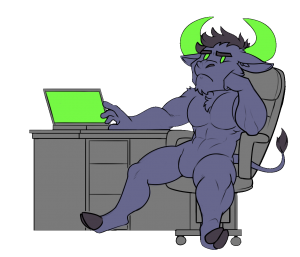 0.7.175 Changelog:
New rooms on Zheng Shi: Overseer Maike's Office, Slave Pens, and a placeholder room that will be the entrance to the mines eventually.
New enemy, currently encounterable in the placeholder room: Mining Robot! It always drops at least one gem, but it can drop multiples.
New NPC: Tivf, the zil slave. He currently resides in Overseer Maike's office.
New hacking puzzle: Getting in to Overseer Maike's office takes a bit of work.
Two new Kally scenes by QuestyRobo. One is rather easy to find, but the other to have viewed the kui-tan codex entry and get pretty smashed. Oh, and you have to know about her secret ingredient as well. Enjoy!
Fenoxo-taur coding away by MrPink.