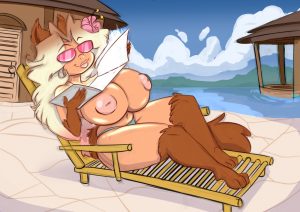 0.7.176 Changelog:
Stella has a small expansion pack written by our local Wsan. Most interesting: a new "Breed" scene where you can (potentially) knock her up!
Stella also has a new pregnant sex scene for once she starts showing.
Stella also has a new petplay scene that comes with the ability to buy her a collar. Last I saw, Adjatha was whipping up some quick collar modifications, and I've logged a requests for a pregnant version of Stella's busts as well.
Fixed a crash when losing to the mining robots on Zheng Shi Station.
Urbolg got a spicy new scene!
Art is actually a piece TigerBlack (Stella's original owner) commissioned from Joelasko.