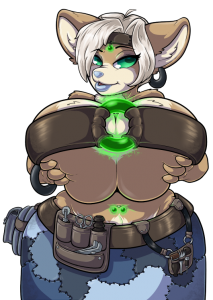 Maja isn't completely done, but Garde's gotten her most of the way there. You can run into her on the very bottom of level Korg'ii Hold, if you haven't visited her just yet. I'm going to work on either filling out the rest of the rooms for the bottom level or setting up Lund to work with the translator. Whichever happens first.
0.7.148 Changelog:
Maja has her lewd interactions coded and functional! (Except one that isn't done being written. Look forward to that.)
Breast descriptions have been updated so that they won't spam lactation-related adjectives at you quite so often. They'll also display more accurate lactation-adjectives. If your breasts are freshly milked, they can be "empty," while a full pair can be positively "milk-swollen". The lactation adjectives have also been updated to work more correctly with a variety of milk types.
New Busts: Maja, Verusha, Seer, Fix, and an unused recolor of the naleen male.
You can now shave your beard when showering in the ship or nursery.
Lots of fixes for lots of bugs. Why are there always so many?
Maja's bust by Adjatha.