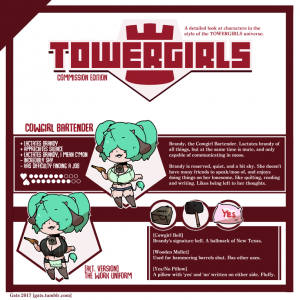 0.7.114 Changelog:
It is now possible to get a fairly involved quest from the Red Myr Federation to put down a rebel group. Penned by Savin and coded by UpcastDrake, we hope you all enjoy working with those awful, terrible, no good, very bad sexy, awesome ants. (Gold Red Myr 4 Lyfe!)
Also featured in Federation Quest: a 7×7 hacking puzzle, ridiculous battles with five characters on one side, 3 or 4 bad ends, a new lust grenade, and a sweet greatcoat.
Ula's lesbian sex scene is in. Also, all three sex scenes in Korg'ii hold can be repeated. Her talk menu has also been added and set up with a converted version of the initial "stars" talk you can pursue with meeting her.
Almost all of Ula's repeatable content is now set up support using her name instead of "The Korgonne" in places and also has support for a later upgrade to the translation algorithm to allow for proper english dialogue.
Hopefully I can dump some interesting conversations in there and spin up the translator stuff by early next week. I also want to reintroduce her cave sex options under the guise of "roleplay."
Geddy is still working on the .exe wrapped for local downloads. I'll keep you posted if there's a significant delay or hangup that prevents us from deploying it.
Ciao, and happy weekend! (Art is another Gats tower-girls commission of Brandy.)
Slight post tweaks made by Savin :3