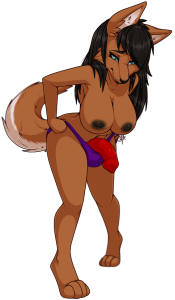 PATREON ALERT: I can't post the game on there right now because the posting dialogue appears to be borked. I'll try again in the morning – gotta get some Z's. The Patreon build is up!
Gedan has been super busy working on trying to get us a better way to distribute the builds to Offbeatr and Patreon supporters alike, so there haven't been as many hands in the code as of late. That said, we still have some new content for you guys to play with!
0.6.55 Changelog:
New scenes for the dryad and male zil for those with female parasitic tails.
New busts for: the pexiga, Terensha, Anno, Horace Decker, Female Lane, Nayna, the bathing Myr Honeypot, and the group of gold myr bathers.
Add a mysterious item that makes butts bigger. For now, I threw it somewhere on Uveto, but it'll move to some mad scientist's lair down the road.
Gryvain members have been added to the D.Designer.
Added a bad-end to the Nyrea – don't lose too many times in a row.
Probably a few other tweaks here or there.
Emmy can't fit all this awesome in her panties (by CheshireCatSmile37!)