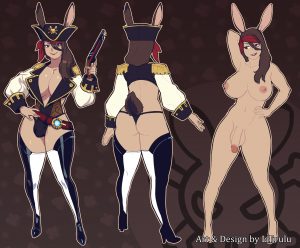 As the post states, Overseer Maike should get put in the game tomorrow. I got her combat routines tested today to an acceptable level, but since she's a boss in a dungeon level with multiple intended ways to progress there's more things that need dealt with than a typical fight. I have to set up and handle bluffing with slave outfits, defeating her, bluffing and then stumbling back into her, enabling a slave rebellion (and disabling Tivf as he would escape in the confusion), setting up her key card to open her office door without doing a hacking puzzle (and probably gate the hack behind an intelligence requirement), dropping the spacesuit helmet and setting up how the spacesuit and spacesuit helmet combine.
I think I'll have it all done tomorrow, but (It's over!) for now I'm going to pop off to try out the new Symmetra in Overwatch, and probably drunkenly scream at my twitch channel, internet permitting.
At right: a design for a laquine pirate I ordered from Liliruru. It came in a bit after I finished the jumper, but hopefully we'll find a use for that sexy bunny later on!