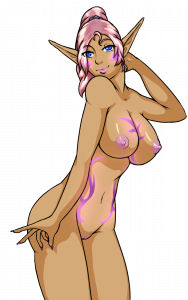 Just kidding, I'm poking at the Minotaur King & Excellia in my free time, but how about a free TiTS release?
0.6.7 Changelog:
Geddy fixed a bunch of bugs (Geddy, if you want to enumerate these so the blog viewers can bask in your awesome, let me know).
What's New Since Last Public Build?
New encounters in Beth's Broads.
Emmy, a hermaphroditic jackal that runs an energy weapon shop on Myrellion. She's only partially completed at present.
New busts for many characters, courtesy of Shou.
Zil can sometimes drop bows, enabling earlier bow training.
Bess can be found and recruited on Tarkus, courtesy of JimT and Gedan's tireless coding.
New scenes at the prostate milker on New Texas, courtesy of Nonesuch.
New Renvra scenes, courtesy of Zeikfried.
Probably some other stuff? The blog imploded, so it's a little hard to keep track of.
Between Metal Gear Solid, Destiny's Taken King expansion pack, and the blog going tits-up, it's been a pretty slow month for us. There's a lot of nice stuff piling up in the code hopper though – I can't wait to share it!