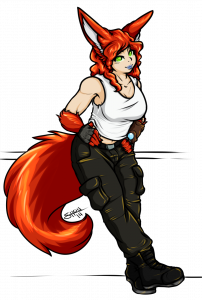 Hey guys, some of you might have been made curious by my last tweet. Well, I'm proud to announce that we've added a new player to the team, though long time readers will know that she's been with us for ages. Shou has been providing a lot of busts for the game for ages, and I was happy to hire her on in a more serious fashion – with paychecks and tax forms and all that gobblygook.
Hopefully this will bring with it an uptick in the generation of delightful new busts (BUST MUST PLUS).
Pictured at left is her rendition of one of Savin's infinite puppyslut army.