This is still 0.7.28, so no new changelog here, just a list of new stuff since last public patch!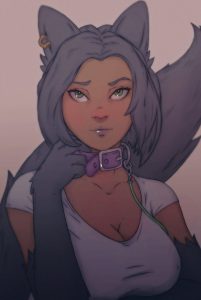 NEW THIS MONTH:
New NPC: Jeryn, located on Uveto. Can save from you the freezing cold in increasingly debauched ways.
New NPC: Sylvie, located on Canadia Station. She's a moose-taur with a bit of a drinking problem and tons of fun interactions.
New NPC: Pippa the pig, located on Uveto.
New Item in Jade's Inventory: Swineapples.
Sera can now be made into a submissive pet.
Del can now unlock Canadia station (and move there) after being sufficiently broken in.
Erra got an expansion pack.
DrLessau has a new item, Pleasure Palette, written by Lodestar and coded by Jacques00.
New Item: Tentacool. As the name implies, this gives you all kinds of tentacles!
New Busts: Del, Jade, Saendra, Kaede (x2), Shekka, Victoria, Eimear, Erra, Kitsune Traders, Rocket Pods, Milodan Male, and Betsy
New Riya Scenes!
New Scenes for those with upgraded hardlight strap-ons: Shelly, Sellesy, and fun malfunctions!
New Anno petplay scene!
Exhibitionism will now raise to 50% by walking around exposed.
New Dream: Reaha's Cow Farm.
Dr. Lash no longer tolerates fapping in his office.
New tentacle-tail scene for the New Texas milker.
Parser adjustments and many other under the hood improvements.
Many bug fixes and many new bugs introduced.
Art of Erra by Rorai, over on the forums.
Also, here's a video of me kicking ass as the new Overwatch hero: