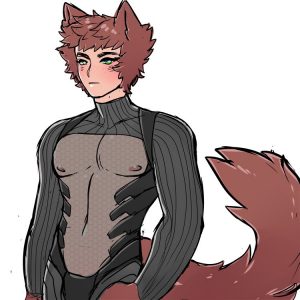 I'm still judging things (and still coding things semi at random)! Please enjoy the additional content for Poe A, the bugfixes, and the submitted content UpcastDrake was lovely enough to code. (THE PREGGENING IS UPON US!) I'm going to back to reviewing after this, assuming I don't jump back on writing my "knotty nurse" costume idea.
0.7.106 Changelog:
The Hero's Garb is now available from Holiday, penned by Fenrirskoll
The Bondage Kitty costume is now available, written by our very own Adjatha!
Fixed the lack of author credit for the Saurmorian costume.
Some bugs with costumes have been corrected.
A new Halloween event has been added, written by HugsAlright: The Chupacabro.
Ellie Pregnancy has been added to the game.
Pregnancy for folks in Gastigoth should be up and running.
Ilaria pregnancy has been added!
Fixed Azra being able to have an expedition on an exploded Tarkus.
Thanks for your support as always, and look forward to more spooky content throughout the weekend, real life permitting! (The big public patch summary will hit once I'm done pushing public stuff)
At right: BustedRadio's Ausar, Rufus.