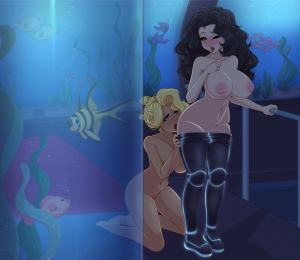 0.7.108 Changelog:
Those who have Sera as their mistress (and A-cups) can proc an event where she fucks them against the wall as revenge against furry trick or treaters… somehow. I dunno, but it's hot! Written by flying_mustache
Slab Bulkhead's contest-winning ghost dream has been added to the game. It can randomly proc in place of other dreams while sleeping during Halloween season.
Assorted fixes and fun!
I might still code a thing or two for tomorrow's patch, but I guess it's time for everybody's big list of everything done this month:
New Halloween events: Paige's Possession, Night of the Succucow, Pumpkin Carving with your Kids, Poe A Hero's Costume, Poe A Bondage Kitty Costume, Poe A Saurmorian Costume, Night of the Chupacabro, Poe A Female Spider Costume
Ellie can be impregnated.
Ilaria can be impregnated.
Many characters at Gastigoth can be impregnated.
New Busts: Planets, Liamme, Luca, Kase
New Rare drops on Tarkus: Spunkshrooms, Slutshrooms
New Roaming Rare Weapon Vendor: Kattom Osgood (Includes 19 new weapons!)
New Follower: Kase
The Subtuner received a very large expansion pack.
New character: Prai Ellit
I didn't personally write as many of these as I would have liked, but I'm quite happy with the amount we've managed to push. Art is by CheshireCatSmile37.