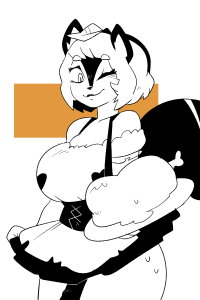 Another Monday, another progress report! Savin worked on Psionic Anglerfish monsters for Uveto and "FederationQuest," a likely pre-requisite for peace on Myrellion. Aside from that, I'm the only one I know at FenCo that was logging Dev-Time today. If Geddy did, she'd be working on the Nursery stuff – I don't tend to micromanage her when she's working on a big project like that.
Personally, I churned out 4,000 words of writing for the intro quest for the "Kui Country Bar and Lounge" in the space station over Vesperia. Most of it was an enormous "rough buttfuck" scene for Kiro where she can take out some irritation on the PC. Features plenty of spanking, neck grabbing, and cumflation. I've gotta do some alternate intro stuff for it so that it can be requested in the future when the PC is feeling particularly naughty.
Once that's polished, the intro path for the station (Codename: New Canada) will be complete, and I can start working on slotting in repeatable content for Kiro's sister (the bartender with alcoholic cum), special Kiro adjustments for being in that bar, the taur-girl we've teased in the past (hopefully with Wsan's help), and a bit of gloryhole content in the bathroom.
By that point I'll probably jump back to Treatment (faux cow) stuff or Myrellion (peace path) for a bit.
Kiro's sister sketch claimed from Gats' patreon before he shut it down. RIP, Gatseon!
Reminder: Public Patch on the 6th. (And I might have commissioned a story from Kotep in the TiTS universe… coming soon)