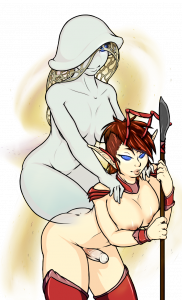 With the coming of the spoopiest of holidays, I'm slipping fully into Halloween mode. Enter Skellinoxo! I reviewed a 15 page or so Halloween submission from some old friends I've known since the CoC days, and I have to say, one of the scenes is friggin' amazing. It's been a while since I've been submitted something of that caliber. Fuck Halloween tricks – I got a treat!
I also started jumping in to write a bit for the encounter. A bit where you put on a "centaur costume" that actually turns you into a centaur. Whoooooo! Spooky! I'm only 600 words in. I haven't gotten to the part about tentacles slithering into nethers in to link nervous systems or the irrepressible breeding drives of such a creature, but that can come soon.
It wasn't all ghouls and goblins for me today. I put the final touches on another BionaHole for Inessa to sell and coded it into the game. We should have that for the next patch drop. I'm a little disappointed I didn't get much out this week, but there will definitely be something next week. Maybe not Savin's promised dungeon, but I can confirm a transformative bodysuit that'll let you party as a CoC-style goblin. People like that stuff, right?
This lovely fungal myr bust was done by our own talented Shou!