Thank you to everyone who submitted a caption to the contest! We had so many amazing entries that I actually had trouble deciding on a winner. In the end, I gathered together the ten that I felt were absolutely molten hot and rolled a d10 to decide which one would wind up with the grand prize cash.
Our Winner is… LeviLoveHeart with this beautiful piece of smuttery: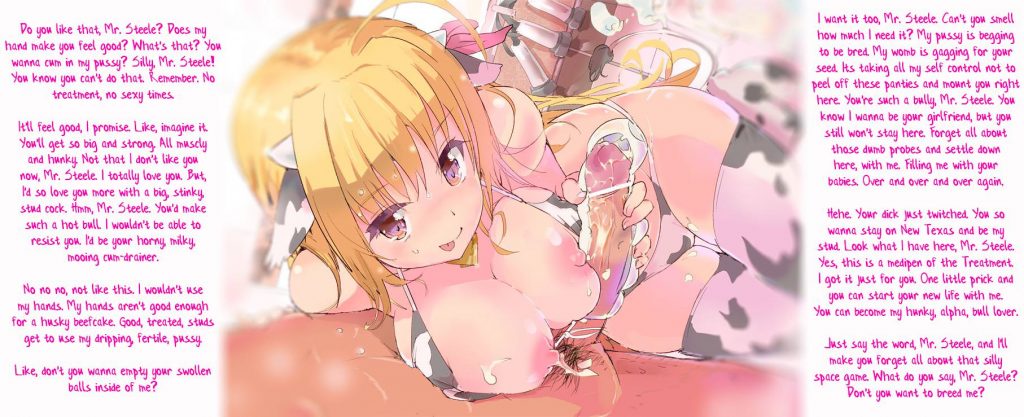 Our Honorable Mention Prizewinners were:  Based_Doggo, Megatokyoguy, Eternallyended, Jay123Desk, Felix_Faust, B, Obee, Wsan, and William.
Winners can claim their prizes by sending me a PM on the forum with their paypal address.
More images are available below, but even more can be found in the submission thread!
Now for some other delicious pictures from the contest. First off, our winner had two other amazing pictures that I'd like to share, including one for a Steele bad-ended by the infamous Kaska Beamfury. <3
The rest of the pictures will be presented in alphabetical order by author… because honestly it'd be impossible to place these in a rank order I was comfortable with. Too many were too goo!
B had some lovelies with a variety of my favorite characters AND a pretty nice animated gif of Lane that he put a lot of work into. Sadly, it's not displayed here because the blog has an upload limit for images for 2MB. I highly recommend checking out the submission thread and giving it a look!
Based Doggo lived up to his name and presented us with some top-grade Excellia cum-thirst as well as putting Penny in heat. I had to resize these for the blog's upload limits (and I also left out a prequel to the Penny one). If you want to check them out in their full glory, swing by the contest submission thread and grab them there.
Eternallyended showed us all what a depraved, cock-thirsty slut Anno can be. He also had a great Tamani caption with a set of animated images, but – you guessed it – the blog can't handle Tamani's girth.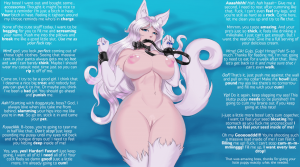 Felix Faust took perhaps the ORIGINAL TiTS character, Zo'dee, and gave her some much needed loving – or was that what she did to this player character? You be the judge!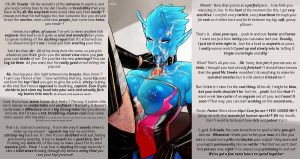 Megatokyoguy took aim at a variety of characters, but his captions for Edryn and Tamani were my favorites by far.
I greatly enjoyed Obee's take on Tamani as well. What can I say? I love goblins!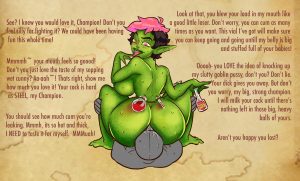 William took his love of the Bored Jumpers and laid it thickly all over this lovely piece I got drawn by MrPink.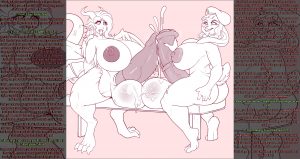 Wsan seems to appreciate minotaurs almost as much as I do. And let's not forget big dicked dragon-girls!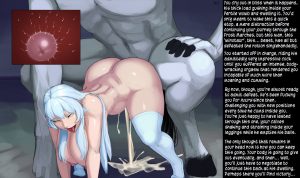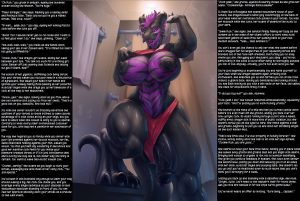 Lastly, I took a piece of Shou & I's OCs having some fun and laid a really smutty caption on it: