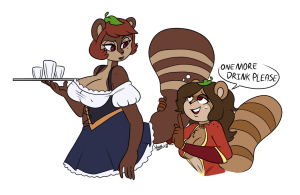 0.7.129 Changelog:
QuestyRobo's victory scene for the Stormguard male has been added to the game.
A new shop has been added to Korg'ii Hold – Warm Crusts. Includes an NPC written by Doots that sells a few bits of barbarian-themed lingerie and a traveling cloak.
Added new accessories to Dr. Badger and Emmy's shops that fire off a damage pulse when your shields go down, once per combat.
Cleaned up some combat code that prevented certain procs from occurring when an attack's damage was tagged to display "minimal" output. They now occur, though perhaps textlessly.
Kiro found Kally's panties.
Kiro & Kally art by SheepPun!