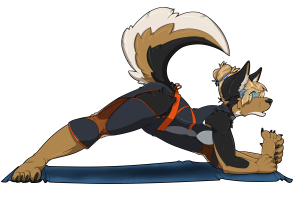 0.7.130:
Centaurs don't get enough love, so I added a centaur-only scene to Ula's options.
Tentacle-tails also don't get enough love, and you guessed it: Ula has a scene for them now.
New busts: Ula and Paige.
Paige can now be dismissed or picked back up.
It looks like Jacques00 added the broodmother perk from an NPC pregnancy on Tarkus. This will likely be reverted in the future. If we do a broodmother thing, I'd prefer it be tied to a sufficient amount of ANY pregnancy, not just one.
Kiro found Urta's panties.
Shou did some lovely art of Paige that I gave her the go-ahead to finish up. We might slap it on a shirt or mug or something. I had a lot of fun churning out about 3,600 words of content today, including some stuff for the eventual Ula preggening. All the bounty projects for Korg'ii Hold are still in WIP land, so I'm taking the time to round out my contribution to it. Once Ula can be suitably impregnated, I'm going to call her complete and roll onto some of the various other projects.