Not to toot my own horn, but the review backlog is done. Err… mostly, anyway. I may have farmed out a piece or two to Adjatha or Savin to handle so that I could get back to booking on the content train, but we don't talk about that here. Not at all.
No, sir (or madam).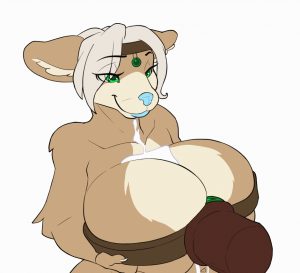 No, we talk about things like the long-promised Faux Cow finally making its way into the game… or the endless excuses for why these things took so long in the first place. We also talk about how absolutely banging this titty-fuck animation is, even if the artpack doesn't play well with Gifs right now (Neither does the blog. You'll have to view it on Furaffinity for now). Sometimes I talk about streaming, like I did this afternoon. There were lots of interruptions, but some solid progress on coding the 50+ pages of backlogged Cherry content was made.
Check it out. 0.7.281 Changelog:
Faux Cow has been written & coded by Skom (and they did a great job!) and presented for your inspection by yours truly. Note that it has not been extensively tested, so there may be save-crippling bugs present. Note the cheat "fauxcow" should force your next Treatment dose to make you a faux cow.
Reptilum (by Zavos) finally got a look-over by yours truly, had the text punched up here or there, and got added to Gene's inventory. Wanna look like a lizard? Give it a go.
Velta (by Franks, coded by DrunkZombie) was added to the game. She's related to Riya… and as you might expect from someone related to Riya, she is: A. human and B. quite a handful in the bedroom.
You can now meet a big tiddy goth GF on extrameet and have crazy, fucked up sex with her. Written by Fr0sty and coded by Gedan.
Paige got a new scene: body worship. Big thanks to B for writing another titanic sex scene and lighterfluid for coding it.
A new titfuck scene for the male SecOp in Zheng Shi exists. It also comes with the option to get some extra mass up top, if that's your cup of tea. Written by Natetheman223 and coded by Jacques00.
Ceria got some new scenes by William. Check out the doggy-style on her! (Coded by DrunkZombie.)
Cherry (of Cherry's Tap-Hall) can now be tipped with Bubble Buddy bubbles. She can also invite you back to her room for a bit of fun, but there's a lot of placeholder stuff for the moment. I didn't want to keep you guys waiting another minute more!
Lots of fixes for typos and bugs, including Lorelei's capacity.
Ship work is going to be happening too, but I adore Cherry's content too much to ignore. The more crimson rahn, the better.