Here comes my first drop of additional Azariah content! Written by B, author of such wonderful works as "Lane", "Frostwyrm", "Nykke", "Nenne", and more that I'm surely forgetting, this lovely (and heavily modded!) slyveren mistress is happy to have you help her girls service her cock. Check in with Sally on Dhaal to unlock her, but you have to make sure you treat her right! Once Azariah's unlocked, you can bump into her on the east side of the Gyre at around the same North-South "elevation". Patch notes a bit further down, under the general dev update.
I'm juggling a lot of irons in my fire right now between pushing out the visual novel, coordinating the TiTS team, and trying to keep the content flowing to you guys while some of our better coders (in my opinion) are busy with the port to Javascript. An update on that – Geddy's still picking at teaching the flash version how to export something we could potentially import into the javascript version of the game. Odds are good you won't have to start fres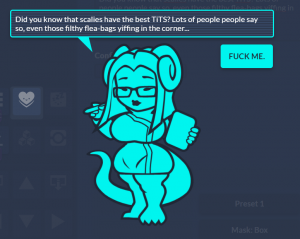 h!
As mentioned on my twitter, Jacques00 put together a little tween-animated tutorial helper we can use to help first-timers with the UI, already embedded into the current javascript port in mockup form, even allowing for me to give her some custom text. Of course I got goofy with it. It's too good not to share on the blog!
Lighterfluid has been busy coding (in addition to real life demands) the Leyaks, which I can only really describe as floating jellyfish – if the jellyfish had sexy bimbo faces tucked into them. I wasn't 100% onboard with the concept at first, but the busts Adj is putting together for them look really, really nice. One small wrinkle is that they were written to induce the effects of a galomax dose in certain loss scenarios, but given how galomax is written and structured, that won't be a good fit. I'm going to have to work out an alternative goo-ification (jellyfication?) scenario to satisfy everyone tonight or tomorrow.
DrunkZombie has also had plenty to keep him busy in the real world, but he told me that I could reasonably expect Sylvie to have a pregnancy expansion on Friday. I'm not as into pregnancy as I used to be back in the CoC days, but I'm still looking forward to it!
0.8.140 Changelog:
Azariah the slyveren mistress is now on Dhaal! She comes with two sex scenes that have significant forks (each the size of a small scene on their own) and a blowjob that you can trigger from almost anywhere in her content – with significant variation based on when and where you start it. B really outdid himself on that one!
Gianna will now get out of your bed when you tell her to. Naughty companion robots, I swear!
Slave Sera's inventory can now contain Vernacola and Dicksprout.
Tuuva can no longer have a threesome with Nenne while Tuuva is indisposed.
The "Twins" from Kiroquest will now properly offer their "Get Service(P)" scene to males. It was blocked by an error in disabled button placement – unless the PC was herm, like my test PC. Whoops!
FIRST-14's "Overqueen" was missing her full list of "sexual dislikes". You may find her a bit tougher to tease as a result!
"Generic" Enemies on FIRST-14 have had their uncommon drops standardized so that they cannot drop equipment you already have – and will instead drop a piece you don't have instead. This should make getting pieces you don't have a little easier and eliminates some random variance in methodology between the two.
Fixed a potential crash related to collecting Perdita's stories.
I wub you guys. Stay safe out there!