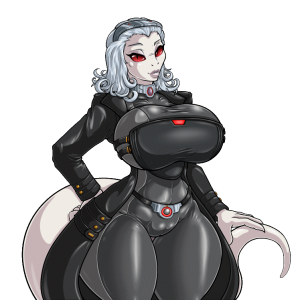 New patch, new enemy, new items, and lots of fun!
0.7.213 Changelog:
The forge deck of Zheng Shi now has some security operatives from the Cyber Punks gang prowling around. These technology-augmented cat-girls (and boys) will give you a real run for your money if you let them! Their loss scenes all involve being put in a sort of VR visor smut experience while you're dragged back to the 2F elevator, and I'm pretty proud of how the ones I wrote turned out. Wsan also chipped in a 'taur-filled addition, and William helped out with the "Fuck Her" scene.
Forgehounds are now a rare encounter. I still plan to do some updating and/or reworking to make this enemy either a miniboss or function better as a repeat encounter.
New item: augment-weave armor. Rarely dropped from Cyber Punk security operatives.
New item: SnakeByte. This item allows you to deepthroat things without being a bimbo.
New Item: Ass Slap Patch. Basically a butt-focused version of boobswell pads.
New Bust: Tessa
Numerous fixes and tweaks.
Some enemies now have proper appearance screens available via the "Look Closer" button.
0.7.214 Changelog:
Male SecOps should no longer get female pronouns.
Male SecOps should properly have A-cup breasts.
Fixed a scene crash in a SecOp scene.