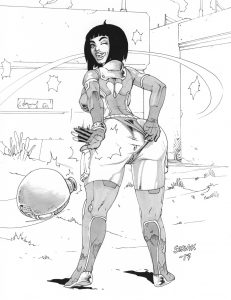 0.7.115 Changelog:
New busts: Myrra(not yet in game), Amma nude, Oggy nude, korgonne males (3 variants), and Erika.
New code to make it more convenient to pile more busts into an existing bust display. Previously we had manually track what all busts were being displayed, then clear and display them all at once. Now the game has a system for tossing an extra one in if needed – which will make showing all the NPCs in a bar much easier, for example.
Ula's talk menu has been fleshed out. I may add some more options after the Christmas contest, when I go back to finishing up the hold.
Kase now has a random event where you can catch him getting some help from Anno with math.
Liamme can be bumped into in Aliss's shop if you've done the exhibitionism scene with him.
Liamme now has an option for getting taken with a hardlight strap-on.
Various other tweaks and fixes.
I've got my D&D game to run tonight (which I haven't DMed in forever due to being down with the sickness), but later tonight/tomorrow I'm going to dive into grading Christmas stuff and pumping out the best bits for you guys to enjoy. Looking forward to it!
Big thanks to HugsAlright for having some small stuff I could work on adding to the game over the weekend.
I'd also like to once again thank Servik for producing such lovely fanart!