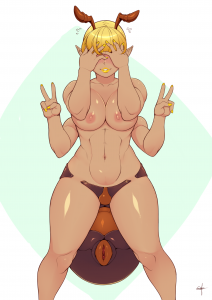 0.7.83 Changelog:
Zeikfried's male korgonne encounter has been added to Uveto's encounter tables.
New Bust: Naleen Brothers
You can now give Syri your panties. For reasons.
Sam the Tech Specialist has been added to Gastigoth for those who have defeated her in Saendra's quest.
More tweaks, fixes, and bugmurders. RIP, little guys.
Next up I'm going to look over the Korgonne pregnancy that came with them and possibly implement it. If all goes well, I'll tag another changelog onto the bottom of this post in a few hours. Then I'm going to take a small break from coding submissions to tackle writing Azra's Tarkus quest.
Thanks bras,
F
(Liliana can hardly contain herself! Art by Tsuda!)
0.7.84 Changelog:
You can now get pregnant with baby Korgs.
Fixed a crash in the Korg victory screen.
Added a penalty to reflexes & maximum reflexes when the PC's belly is swollen from pregnancy or fluids or whatever.