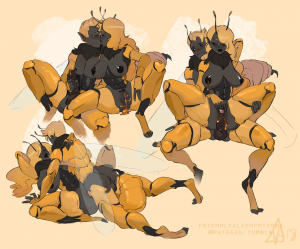 Public patch to come later in the week. <3
0.7.178 Changelog:
Zil twins have been added to the game (by HugsAlright). You should be able to track them down hanging around Mhen'ga. Big thanks to Lighterfluid for tackling that one!
Uveto's Frostwyrm has a major expansion with a pretty fucknormous amount of content. Big thanks to B for writing it, Quiet Coyote for coding most of it, and Jacques00 for doing some cleanup work on it.
A couple fixes and tweaks.
Fenoxo's strength increased by 2%.
Art of the new Zil by FriendlyAlienFriend, courtesy of a commission by HugsAlright. Sadly, FAF hasn't gotten back to me about my commission inquiries from last month, so not sure if we'll be seeing much more TiTS art from that angle for a while.