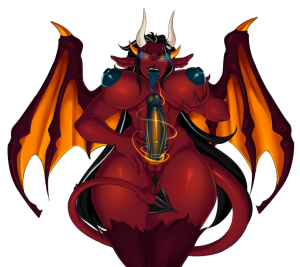 We've got a bunch of seasonal events for you guys this patch, and in honor of everyone's favorite spoopy holiday, it's a public one too!
0.2.22 Patch Notes:
New seasonal dream: Demon Brienne (by Wsan)
New normal dream: Return of the Mander Siblings (if you have the serpent locket) (by me)
New seasonal event: Cait Tentacle Playtime (by me). Triggers if you've lost your anal/vaginal virginity, have brought Cait to Evergreen, and sleep in the Frosthound.
New seasonal event: Friendly, pure, and definitely not a demon witch encountered in the forest (by SomeKindofWizard)
New scenes: Double BJ scene with Ryn and Boomer if you've talked to Boomer with Cait ; Cait/Sugo lewd makeouts if you've helped Sugo (by BubbleLord)
New bust: Demon Brienne, Lusina
As always, you can support the game's development here!
By the way, Ardia released for TiTS last patch (backers)! I worked real hard on her, pls to enjoy. Also there's an open bounty on CoC2 Manticore Cunt-tail scenes. See here for details.