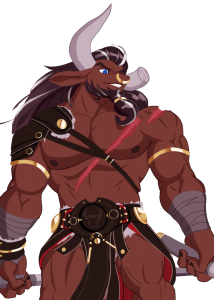 Hey there, it's been a while. We've been working on a lot of technical stuff, but now we've got a big hunka burning love that wants to shove his way into your party — and your holes, too. His name is Brint, and he's a big ol' boy written by Wsan — so you know he's some grade-A beefcake.
The next chunk of content should be some much-needed level 1 mobs in the Old Forest: wolves, some hornet-girls, and story-related plant babes lookin' for some tentacle fun. See y'all soon.
Update (10/12/18): Build with a bevy of bugfixes is out (including shop bugs, gender preference, and Brint no longer breaks your legs). Same version number.
0.0.25 Patch Notes:
The Old Forest has been added to the game, accessible via Hawkethorne's north gate. It currently has no encounters, except…
Brint, a minotaur warrior, has been added to the game. You can find him just outside town in the Old Forest and ask him to join your party! He comes with the expected batch of new sex scenes, including something very special for traps looking to get plowed!
The way exploration works has been revamped: you now unlock paths between map locations by exploring, and travelling between them takes 30-45 minutes per space.
Several random, non-combat events have been added to the encounter tables when you don't bump into enemies.
Harpies got nerfed; you should never face more than one Enforcer per encounter now.
Various and sundry bugfixes.