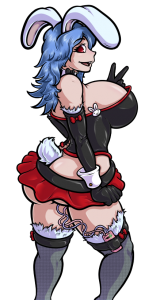 Hey folks, Savin here! Fenoxo's at PAX (what a nerd, right?) so I'm gonna do a short TiTS progress update for you while he's not able to push sweet, sweet patches for a few more days.
For myself, I've just finished off 3 new Kaede scenes (including a threesome with Ilaria, if you've fucked them both before) which you'll be able to access via ExtraMeet. Since I've got time before Fen gets back, I'll also be making her New Canadia Station scenes repeatable as part of the same expansion. Next week, I'll be pushing out another threesome — this time between Lover!Shade and a certain pirate. Gotta make sure you work out any awkwardness you might have if you wanna stay close to the huntress and her kin!
Meanwhile, Wsan's working on a deliciously amazonian huskar pirate for Zheng Shi, and Will's topping off Roo the bunny-girl blackjack dealer. There's also some new Ardia stuff getting into the pipe for her inevitable recruitment, now that all the slaves can be freed. If you like dickgirl switches, this is gonna be pretty choice content.
That's all from me! Look forward to a CoC2 patch this weekend with some seasonal tomfoolery~