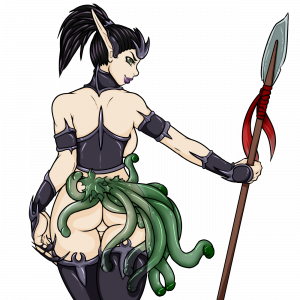 … is basically done. JR left me a fuckton of edits that I'm going to trawl through today, and I've got a couple paragraphs I want to add and remove around, but basically done. Pretty happy with how it's turned out, and what it's setting up for the future!
Speaking of future stuff, next big project on my docket is basically SyriQuest. Only had that sitting around part-done for like a year or something. I've also got a couple of smaller projects I'd like to squeeze out around it, including an egg-training machine and some Kaede stuff.
Oh, and once again, there's a forum thread in TiTS Event Submissions for the next planet, Uveto. If you have stuff you want to see, or are a potential writer looking for a place to jump in, check it out!
Since a few of you were asking: behold Queen Taivra, courtesy of Shou!