CoC2's Public Patch is out as well. Patch Notes Here.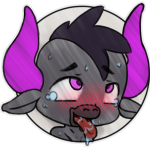 Hey guys, out-of-town-oxo here to let you know that just because I've been hecka busy being away from my workstation doesn't mean I've forgotten about you. I got some work done before I left AND found time to do a little bit of fun in between con-related activities. On top of that, Wsan and our volunteer coders have kept the progress coming! Choo choo!
I'll do our own public patch sometime after I'm at home this week!
0.7.272 Changelog (PLEASE UPDATE):
Several new changes that were  supposed  to be in 0.7.271 should actually be included now. My bad!
0.7.271 Changelog:
I've dialed back the joke text adjustments for April Fools. They were a bit over the top, and we're gonna keep things a little more serious from now on.
A new SSTD that I'm rather proud of has  been added to the game. It comes on fast and finishes quicker than a pent-up laquine.
An awesome new dream for penis-toting PCs with Kase a crewmember has been added. Big shout out to HugsAlright for slinging it at me!
Laquine Pregnancy Busts should show properly.
Bored Jumpers can give you SSTDs again.  This was improperly removed during the pregnancy update.
You can now make some fun bets with Haley. Thanks to Lighterfluid for coding it and Wsan for writing it up!
Amber now has an option for having threesomes with Anno, again written by Wsan and coded by Lighterfluid.
Added a new story to the game, "Breeding Sylvie." It's available for purchase from Mabbs, who in-game wrote it. Thanks to Gardeford for actually writing it!
You can now jab Haley with some Throbb, if you like bad ideas. Again, by Wsan, coded by Lighterfluid.
You can't go to sleep in the Battle for Korg'ii Hold any longer.
A lot of other fixes and tweaks (but not much for Blackjack yet. Sorry!)