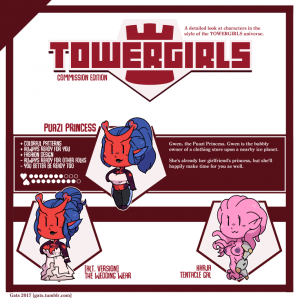 0.7.113 Changelog:
Bits of Korg'ii hold have been dropped into place. It's still very unfinished and missing pretty much everything, but it's a start!
Ula (the Korgonne Princess) can be visited in the hold (though only once, and the lesbian scene isn't completed yet).
New parser added – [pc.chestCover] and [pc.chestCovers] for reporting only clothes that obstruct the boobs. Useful for if you want to talk about a bra being in the way – but not a bondage harness.
The "Dryad" Halloween costume has been added to Poe A. It's more of a cockvine bikini to be honest.
Gwen as a tower-girl by Gats! Check out the game he's making if you got time and like robot-girls!