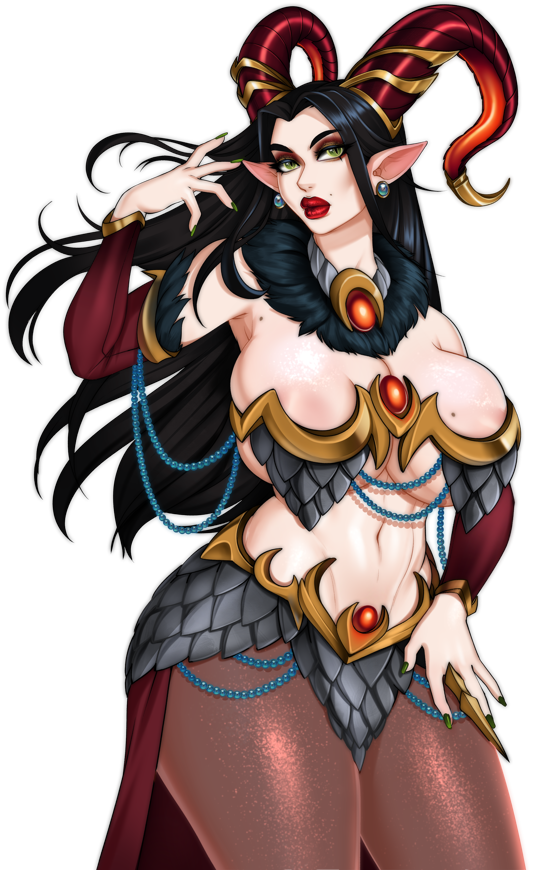 I finally got a chance to write out the Brint/Arona threesomes that've been taunting me in his menu, and several other community writers and artists have some new contributions as well!
0.5.35 Patch Notes:
Brint has a new set of threesome intros if you haven't gotten fucked by him before.
You can now get together with Brint and Arona at once, via Brint's threesome menu.

You can get double teamed by Brint and Arona, with some options as to where all the mess goes.
You and Brint can either double-penetrate Arona together or you can suck her dick while she gets planted on mino-cock, if she's your sub.
If you and Arona are both milky at the same time, you can ask Brint to milk you both together. You can let things stay (relatively) chaste or go all in on letting him make you both his cows 🙂

Cait has a sequence of new scenes for Kitsune-Champs, where she explores all your sensitive mofu. (By Remi aka CuteBruiser)
The Alpha Gnoll has a new PC-Victory scene where you can take her doggystyle. (By Pépère Pervers)
Drifa has new content wherein she dresses up as your Wayfort's new maid. Requires having fucked her 20 time; [Condition]ing her counts as 5 times. (By Jstar)
There's a new followup scene with Kaina after resolving Ashelander's conundrum. Requires having Ashe with you.
Azzy's dragoon sex scenes are properly repeatable from her sex menu after the first time scene. Big whoops there!
Liaden's romance logic/gating has been fixed; she's now available for all PCs with fem pronouns.
Dragoon Azzy has a proper Appearance description.
Dragoon Azzy's spear now properly does Fire instead of Frost damage.
Dragon's Breath now scales off Strength.
Dragon Evelyn's difficulty cap has been increased. Rawr!
Kas's stats in her Winter City encounter are now properly set to 100 instead of 93.
Many misc. text fixes and typo corrections.
If you like what we're doing, consider supporting us on either Patreon or SubscribeStar! And come hang out on CoC2's own Discord!