It has been one thousand years in coming, but finally, it is time for ARONA COMPANION baby!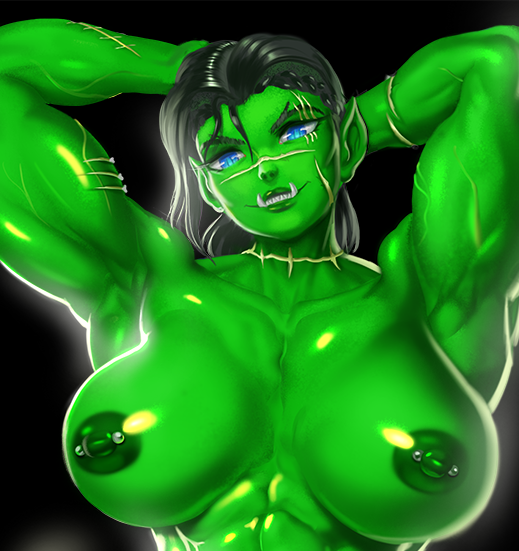 0.3.10 Patch Notes:
New Companion: Arona!
You can find Arona either on her throne or at the Frost Hound, depending on how you resolved her quest line. If you still have access to the Orc Camp, you'll also have access to a second set for her (acquired from Rags). Both Sub!Arona and Dom!Arona are fully featured, with sleep-withs and equal amounts of sex scenes. Regardless of Dominance, there are new scenes available from her throne in the orc camp. If you have Sub!Arona, you can work her up into Dom!Arona — NOT the other way around. You know what you wanted.
New PC Pregnancy: Orcs! Arona can knock you up at any point, before or after joining your party. She has a special scene in the foothills if you're pregnant and encounter her. You can also get knocked up from the Orc Lodge gangbang and from Vaush.
New NPC Pregnancy: Arona's Bodyguards. Any excuse to get off working, these orcs…
All this is written by me (with Dom!Arona sleeps by Wsan), and coded by Leykoss. Arona's threesome with Etheryn is in, but not the Cait one — Leek coded the orc faster than I could write it, haha; just one variant was about 5000 words! Should be coming at you in a patch or two, along with at least one other scene for throwing your orc at a planty friend.
Also DCL did a sexy as hell desktop splash of an oiled-up-and-ready Arona, available in full glorious 4k to our $5+ backers on their various sites. 😀
If you like what we're doing, you can back us at….
… Patreon!
… Sponsus!
… or SubscribeStar!
Oh, and don't forget we've got a STEAM RELEASE coming up in less than a week! You guys pushed us past 6,000 wishlists already — we're just a couple places behind Cyberpunk 2077 on the Upcoming Mature Games roster! Thank you!!
P.S. take a peek at the post below this one for an announcement about a fundraising D&D stream. Fen and a bunch of other community members are going to be running/playing games, and it's for a good cause!
-Savin