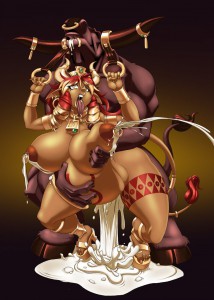 The Minotaur King needs a total of three more scenes to be ready to go, but I'd like to write something else for a while, so I'm going to stick back to TiTS for a while. Them interactive jubblies need love too!
Still, I just wrapped up a 1,700 word scene for lady PC's to ride their defeated enemy. Of course, it doesn't completely empty the lust bar and leaves them slightly more lust-vulnerable for the confrontation with Lethice, but honestly, taking a gigantic load of royal minotaur spunk probably could've been a bad-end.
The scene is basically what's happening on the right, only the brute is on his back being ridden cow-girl. Art source over here?
Edit: Holy fuck, what does every NPC everyone else writes have to have known the PC's dad, fucked the PC's dad, or instantly know who the PC is like they're fucking Paris Hilton? Damnit, Savin (this is your fault)!