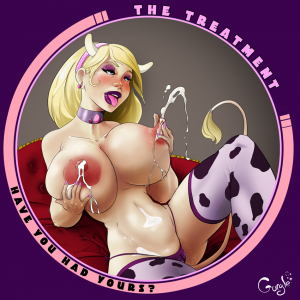 You guys were due for a reposting of this story. Here's the first three chapters to get you started. It tells the story of Cass, a kaithrit, who takes the Treatment on a whim and struggles to manage her deicision. I'll post the next three tomorrow.
Chapter 1: A Sample Treatment
1900 words, Pheromones, F Masturbation, Exposition
Cass fussed with the medipen in her hand. She had gotten it when she made planetfall, almost three hours ago. It was an innocuous little thing, not even as thick as her pinky finger and nowhere near as long as the inoculation cocktails she had to take before traveling to this system. Even the warning labels were smaller; there was just a single holocode printed on the side. Sure, she could scan it in with her wrist band's ocular recording system and pull up the real warnings on the extranet, but it seemed so much more benign this way.