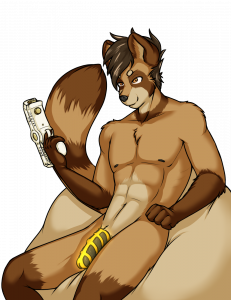 So, while Fen's hard at work rebuilding Tavros and slotting in a sexy new shop, I'm putting a pause on my other projects to churn out a Halloween adventure. Well, an adventure that I hope will be ready around Halloween, and which apes the Survival Horror (IN SPACE) genre ala Dead Space. So I'll be working on that for the next week or so, I reckon. Then back to SyriQuest — aka Eventually(tm) the project. Anyway, hope our Canadian brethren had a good Thanksgiving! Don't forget to turn on Silly mode and head over to New Texas's milk barn for a maple-flavored treat!
Art of one of the KaraQuest bosses, Dr. Khan, by Shou! She's got a forum thread up in the Art section showcasing her busts now — go check it out if you want to see the collection!
And yes, he is sitting on a testicular bean-bag chair. Kui-tan be weird, yo.