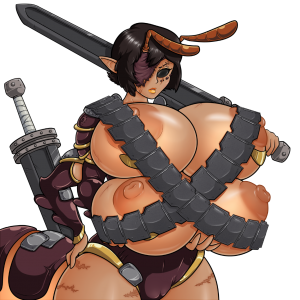 Hi, folks, Savin here filling in for Fen while he's off at GenCon.
I recently finished up a pretty hefty new quest for Myrellion, for those of you inclined to side with the Red Myr (or who want to undermine them from inside). It clocks in at a little over 42,000 words, with a pretty complex web of potential endings — plus the usual array of mid-quest scenes and badends. And you get to fight a tank. I'm pretty proud of that fight, if it gets in-game looking anything like how I designed it.
Now that that pretty massive chunk of work is done with, the next big thing on my plate is a long-overdue update for everyone's favorite ausar gamer girl. (And I seriously mean overdue. I think I first started thinking about a Syriquest when I was still in college. Fuck…) Specifically, a quest to find out whatever did happen to that other guy in the transporter accident, and maybe a few other mysteries along the way. The end goal is to set up Syri to be available for Steele's crew, though that will come afterwards in a different expansion. Writing crewmembers is almost like writing them over from scratch sometimes, though at least Syri's existing sex scenes are all set aboard the ship already.
While that's my big project for the next little while, I'm going to try and churn out the pregnancy stuff for the Galactic Prison (how're y'all liking that, by the way?), as well as making Zaalt appear there. And right before he left, Fen coded in Sam (the Pirate Techie from SaendraQuest 2) getting added to the prison, written by Night Trap and… that's real hot stuff.
So yeah, that's about it from me. I'm gonna try real hard not to make any new waifus (God help me), until Fen makes a new planet at least, and focus on expanding and developing existing characters for the next good while. Reaha and Shade are high priorities, and Saendra's got a whole quest planned to finish out her storyline… but by the time I finish SyriQuest I'll probably want to take a break from big, complicated quests. So nice, wholesome cowgirl sex (lol) seems like a good bet for afterwards.
Take care and stay safe out there, bras. 🙂
Pictured: Queen Estallia, big bad boss bitch of the new Red Myr quest, whose bust I had to downsize by like 50% because I have a teeny upload size on this site. Yes, those are tank treads. Art done by the ever-awesome Adjatha, naturally.