This is not an April Fool's joke. I'm not doing one this year (aside from the pre-programmed parser shenanigans I left in).
I've been thinking about this for a while, and I think for the rest of the month, all TiTS patches are going to be public builds. We're dealing with a (hopefully) once in a lifetime situation where the whole world is stuck inside. The least I can do is provide everyone with the most recent version of my insane little fantasy world for free.
I did want to hold off on the next patch until I got these bimbo Kiro scenes finished, but the second one passed the 7,000 word mark today, largely owing to the fact that I wrote in some fun for almost every recruitable NPC I've ever written (and NPCs I intend to have recruitable). Some actual editing is going to happen, even if I have to do it myself, and then hopefully I can drop them in a patch by tomorrow night or the night after, productivity depending.
0.8.068 Changelog:
Status effects should all be centered.
Lumi's first expansion has been added! Includes such fun options as double-headed dildos and giving her Throbb!  Also the stuff you do with her can mess with your head a bit… (Written by Skom, coded by DrunkZombie)
Tarkus now houses a Sydian "c-boy" – that is to say, a male without a penis. (Written by GothPastel and coded by gena138) Be higher than level 6 and make sure you've met male & female sydians, then you can encounter him.
The 33 lust requirement to participate in most sex scenes should be removed, courtesy of Gena138.
Sera now sells an extremely expensive but also quite reliable dick enhancement item: Dicksprout. (Written by TheBiologist, coded by Somebody Else Entirely)
A number of Dhaal's rooms got descriptions.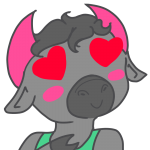 Stay safe as safe as you can out there!
(Heartnoxo by Bee!)