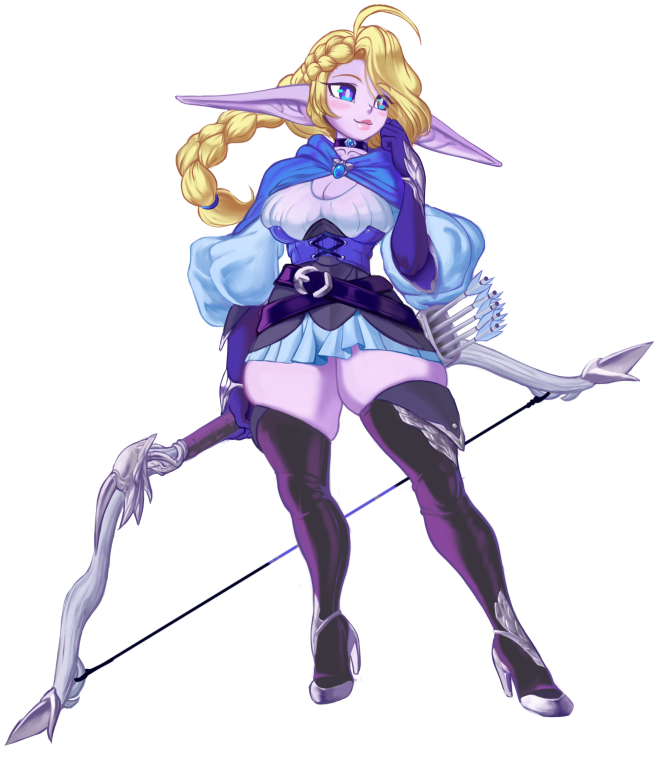 Bimbo buzzes and pretty elf princesses are on tap today!
Edit: Hotfix Released
Game should stop locking when talking to Rune. Also BK's LeoCait and the new Ryn bust set have combat headshots to go with them!
0.4.5 Patch Notes:
The hornets in the Old Forest are now switched out with an updated version of the encounter after finishing the hive dungeon. (Written by TheObserver)
New TFs: Catmorphs (by Freed), Siorcanna (by Skow)
You can now tell the elf boi in the forest to go away forever.
Etheryn's got a new bust series by DCL!
Check out what else has come around since the last public patch below the break. In the meantime:
If you like what we're doing, you can become a backer and help the game's development on…
… Patreon!
… Sponsus!
… or SubscribeStar!
New Since Last Public Patch:
If you've built the Temple of Mallach and have romanced Kas past the Winter City, there is a new event that may trigger at the temple…
New NPC in the Mallachite Temple: Rune!
Atugia has a BUNCH of new sex scenes and talks!
You can now give Ryn a dildo or permission to seek out your companions for sexual relief.
New Undermountain enemy encounter: Kobolds!
New Undermountain enemy encounter: Minotaur Miners!
Senja now has much-expanded interactions if you chose to give her a smooch before!
Miko's old scenes now fully account for her pregnancy.
There's a new jotun/lupine Cboy in the Rift, who you can push towards different sexual arrangements.
The Wraith Chimera has a new loss scene
There's a new scene for walking in on Liaden and Azzy, complete with a new CG.
New TF: Deer!
Salamander TF now gives cock types. New hairstyles for dreads and afros!
New Busts: Rune and Kobold headshots, Elementals, new Temple friend.
New CGs: Brint x Atugia by Moira, and Lyric gettin' fucked by DCL, and another for Lady Evergreen's sex menu (Done by Mr. Pink and Waru-Geli)!