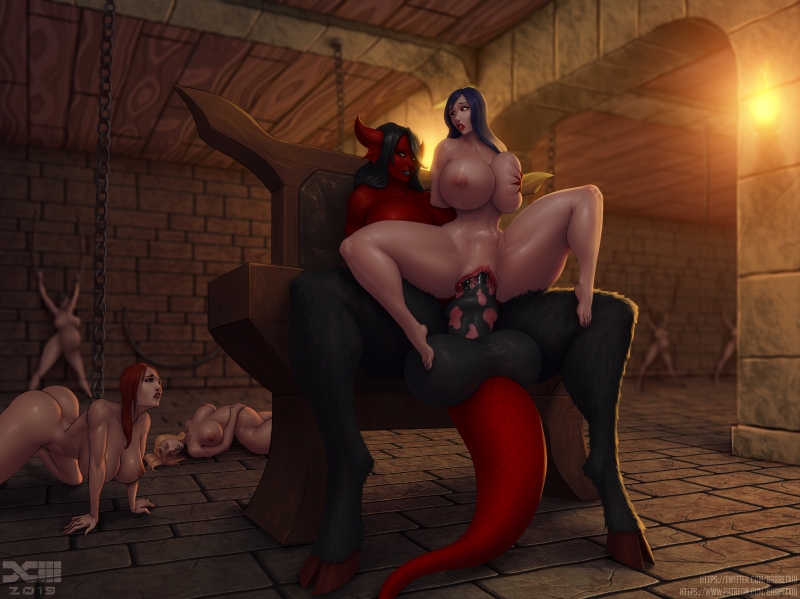 Hey, this was a pretty stacked month for content — four new enemies, two new NPCs, and a boss encounter — plus a bunch of new Kass and Garret content. And here I was afraid this patch would be on the light side because of FWA…
0.1.22 Patch Notes:
Shar the Harpy has been added to the northern Foothills. She needs your help finding a wizard who can help with her messed up wings! (Written by myself and Observer)
There's a new dream starring Kasyrra. It may or may not really be a dream… You can unlock it after defeating the Alraune.
Evelyn, a hung inn guest, can be encountered via voyeurism around at the Frost Hound. She can be found after defeating the Alraune, from Day 10 onward. (Written by Wsan)
New Pregnancy Speed options: you can toggle between "realistic" pregnancy speeds, or much faster speeds more in-line with CoC1. The faster speed setting is currently the default, though the game world operates on realistic logic (eg. the lupine codex will say their pregnancy lasts for 6 months, instead of a few weeks).
New Since Last Month:
You can now level up to Level 4. New powers are unlocked as well, and many old powers have been tweaked or had their tooltips rewritten to fit on their damn cards.
You can now access South Harvest Valley, including new enemies such as river cultists, slimefolk, gnolls, and a moth-girl thief.
Catfolk and Lupine vagina-havers now experience heat. Orcs with dicks experience rut.
New Kiyoko mayternity event.
New Brint talk scenes
Garret has some serious PC-sub content for being his personal bitch. You can also challenge him to drinking contests!
Kas has a new victory scene after the Ruined Wayfort encounter, including a new bad-end for characters with 65+ corruption at the start of the event.
A whole slew of new dreams. Check the wiki for the down-low.
New TFs: Salamander (Cinderscale and Frostscale variants), Lupine, Ovilixer
Ivris now sells birth control for both genders.
There's more Mayternity to come, plus more Shar and Etheryn content in the pipe for the immediate future. If you want to get access to content as it comes out, get yourself backer status here! <3
Art of Kasyrra starting up her harem in Savarra done by Barret XIII. An amazing fan commission from Hina Vache!
TITS patch should be tomorrow!