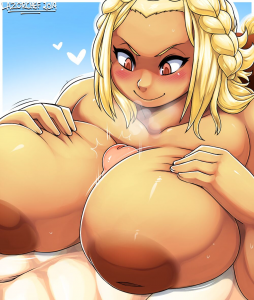 The next phase of Harvest Valley's story is here in the form of a deliciously chunky pony: Ahmri the centauress, daughter of the corrupted chieftain and precious snowflake that must be protected.
Note: The Windows Download version is up and working again. Also Savin is a big dumb, OBVIOUSLY SIGNED BY FENOXO.
0.1.17 Patch Notes:
Ahmri, daughter of the centaur chieftain, can be rescued in Harvest Valley. You'll need to encounter the centaur packleader three times before you can encounter her (written by Gardeford).
Berwyn has a couple new sex scenes by Hugs! You need to have buttfucked him once (in this patch, not earlier) to access one of them.
Kiyoko has a new random scene if she has 4+ kits and you have a meal with her.
A new dream featuring a centaur and a wyld elf. You'll need to have lost vaginal or anal virginity, fucked Sugo, and met Ivris. Thanks to Bubble!
Garret's titjob scene no longer accidentally leads to vaginal sex. You gotta go to that scene on your own now 😛
New since April 1st Bonus Public Patch:
Racial code now works right.
Garret has sex in the Frost Hound. His scenes are m/f only.
Vaush the orc shaman is in the Foothills.
New TF: Gnoll.
New Busts for all of GarretQuest.
As always, you can get backer access here if you like what you're getting~
Art by Lazorchef! I've always loved his work and I am so stoked Garde got some for the game!