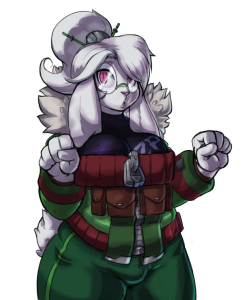 Doing a bit of a dual release – bug fixes and some new content for everyone, and an exclusive backer TF (since non-backers are making out like kings this month).
0.6.59 Changelog (ZE PUBLIC PATCH):
Large wings can now be considered as "clothing" for covering purposes.
New busts: Steph Irson (Adjatha does damn fine work)!
MysteriousPerson's voluntary cuntsnake scene.
Floppy dog ears from huskar treats are now a thing.
A new NPC by Slab Bulkhead in the New Texas gym: Simone.
Bunches of fixes and new bugs introduced.
0.6.60 Changelog (ZE BACKER GUDNESS):
Three new items have been added to the game – Foxfire, Frostfire, and Immunoboosters. As you may imagine, the items are largely geared around foxy transformations. Big thanks to Etis for churning them out!
New Nayna busts, courtesy of JayEcho
Also coming soon: a hermaphrodite leithan for New Texas, penned by Wsan. I reviewed it early today, and it is smashing, if you're into taurs that can make Urta look small. She's note quite done, but I have confidence a finished product will land in my inbox sooner rather than later.