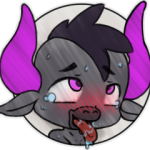 It's been a while since I plugged a completely random game, but recently a friend of mine talked to me about a game called "Monster Girl Dreams". I tried it out the other day, and…
It's really damn good.
It plays a little like if Monster Girl Quest and Corruption of Champions had a baby, and I gotta say, I love it. Combat is largely sex & tease based with enemies having variable "weak spots" and vulnerable damage types. For example, fucking an elf in her vagina might reduce her to a drooling mess in no time, but do that to an Alarune, and you're gonna have a great time – just not win the fight. The writing is generally solid and hot where it counts, tagging a lot of the same sorts of character archetypes that do so well in our games – like tsundere lizard-girls with tail-pegging scenes.
And there's art!
Anyway if you're needing to try something different, I highly recommend Monster Girl Dreams in spite of its unfinished status. There is a LOT of finished content.
(I also wrote 1,400 words more of crew Gianna recruitment content today.)