Hey, Alder here!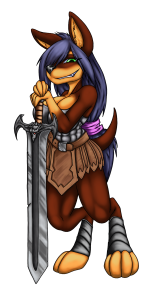 Another bi-weekly (ish) update of Fall of Eden, continuing to expand on Gwendy's content. There's currently a poll going on the Patreon page on what I will work on next (2020). Currently, it's looking to be more farm content. If you are a backer and haven't cast your vote yet, make sure to do so!
Play the update online here.
Download the offline version here (open foe.html in your browser).
If you find any bugs, please report them on the forums.
Full changelog after the break.
Version 0.5.5
Bugfix: Introduction Review bug that would eventually cause issues with the parser.

Bugfix: Fixed an error in the Catboy Mage AI.

Various typos fixed.

Added new $20 patreons from 0.5.x to credits.
Adding 10k words of new content:
A new loss scene for Gwendy with a lot of variation (though a part of it is locked behind a flag that is not ingame yet).

A complex interconnect of scenes that allows for you to:

Avoid getting fucked by Gwendy (applies to both the strap-on and double dildo scene), even if you lost to her.

Later give in and submit to her.

Turn things around and dominate her if you have a high SubDom score.

Bypass the challenge structure entirely, either submitting or dominating. This requires that you've won or lost at least three times (that you've gotten the Oral tier challenge scene). The submit version has some shenanigans in it.