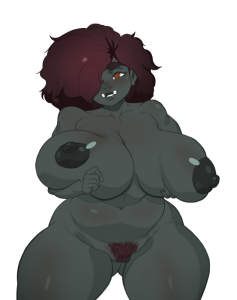 We figured we'd round out April with a solid chunk of new enemies for you to play with in South Harvest. Some of Master Tollus's cultists now guard a river fording, barring access to South Harvest Valley, where you can now find slimefolk, gnoll warriors, and Lusina's new home. Brint and Garret have gotten a little love too!
For those of you who didn't catch my post on Patreon: next month is Mayternity, which means a bunch of pregnancy content on the horizon for those interested (plus at least one of the ready-to-code dungeons should get in for the rest of us)! For my part, now that OrcQuest is done, I'm going to be tackling a cute harpy waifu you can make some eggs with, as well as an egg-laying TF item. I hear there's a good bit of new Kiyoko content coming too…
0.1.19 Patch Notes:
You can now access South Harvest Valley by fording the river; there's a special fight that occurs when you attempt to cross one way or the other. (Written by SomeKindofWizard)
Slimes can now be found in the south-eastern portions of the valley, near the lake. (Written by BubbleLord)
Gnolls can now be fought throughout South Harvest. (Written by TheObserver)
Lusina the Moth-girl is now exclusive to South Harvest.
New Brint talk scenes. (Written by Wsan)
You can now be Garret's submissive bitch if you meet his specific requirements. (Written by TheObserver) A lupine TF will be coming shortly, for those interested~
Edit: Hotfix is out to help with birth scenes crashing the game, and allows you to ford the river back north even if you lose against the cultists.
Big thanks to Balak for coding the gnolls and Garret's bitch content! If you want to dig into the update, you can get backer access here!
Art of Infrith, one of the Kervus tribe priestesses from the upcoming quest, by DCL.