Here's a short little scene I wrote after a particularly unexpected moment in the ongoing Corruption of Champions D&D game Adjatha's been running, between a character run by myself and Fenoxo. Poor Gnoll Princess just can't catch a break!
Tags: D&D, Fantasy, F/M, Lust, Minotaurs, Cowgirls, Milk/Lactation, Hyper, TF
---
"I want you to help me fulfil a fantasy of mine."
Hyra had known the svelte, almost effete mini-minotaur in front of her for maybe a month. They'd adventured together, braved the corrupted wastes of Mareth, and found a few intimate moments together too. When they'd returned to the Bizarre Bazaar, Hyra had expected what any good gnollish warrior would after a victorious campaign: good drink, rowdy song, and the company of a submissive little fuck-slut of a male to while away the nights.
Instead, she'd seen her party's minitaur, Kell, flaunting his wares in the parlour of the Bazaar's high-class bordello. She only saw him for a moment before a rich-looking woman led him off for the night, but that was enough to put an idea in her mind. An idea that had her running around the Bazaar for the better part of an hour, searching out what she needed to make a reality of the fantasies that had been dominating her mind more and more since she first took up with Kell and his company…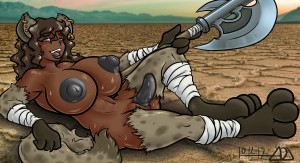 It had started with Urta. That damned she-fox had turned the tables when the proud gnoll princess had jumped her on the plains, and force-fed her a vial of Succubus Milk Hyra had been saving for a special femboy back at camp. Her tits had grown as large as melons in the blink of an eye: long enough for Urta to whip out a massive cock from under her uniform and take advantage of the burgeoning new flesh. Hyra had lost her pride, her fur, and her face to the vixen's punishment. Now she looked like little more than any other dog-girl in the streets, with a smooth human face and a whorish bust that strained her clothes… and they'd become so sensitive that just feeling her black nipples rubbing against the fabric of her clothing was an eternal agony, always keeping her on the unbearable edge of climax.
Then came the traps. Her first day in Kell's company, she'd been on the run from her gnollish heritage and desperate for a way to make ends meet without the luxury and service of her people. For once, she was outside of her queenly mother's watchful eye. Hearing the call for mercenaries, she'd joined up without a second thought. But their first foray out had been riddled with traps from a bygone age that changed their bodies the deeper they went into the dungeon. Now, Hyra could barely recognize herself in the mirror: her tits had grown again, now bovine-like H-cups constantly swelling with an unnatural bounty of sweet milk. The throbbing black clit between her legs, the hallmark of a gnoll alpha female, was gone. In its place, a huge and constantly-hard canid cock with a knot as big around as her fist. There was barely anything left of the shapely gnoll princess that had set out for an afternoon's hunt. In her place was something that, in Hyra's eyes, looked more like a vagabond cow come down from the mountains.
She should have hated it. Should have rebelled against what her body was becoming against her will.