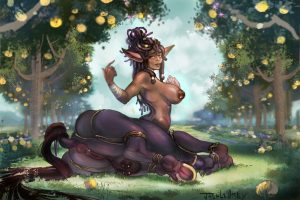 We've got our first new year's patch for you with a goodly new chunk of content!
0.1.3 Patch Notes:
New enemy in the Old Forest: bimbofied hornet-girls looking for somewhere to lay their eggs.
New character content for Leorah, the survival shop owner. Bring her some wyvern venom and you'll get to see her wild side… Both Leorah and the Hornets are courtesy of the The Observer.
Leorah can teach you new archery-themed powers.
Weapon restrictions have also been implemented properly now: certain powers demand melee or ranged weapons, though thrown weapons like the dagger or francesca work for either.
New NPC: the sleepy snake, by Wsan. She's meant for a further-in zone, but she's currently accessible from the space where you trigger Kasyrra's second encounter. She's repeatable and has a chunk of unique content with your companions.
There's a new Kiyoko scene if you've had 4+ kids wth her, she's pretty preggo, and you ask her for a massage!
Remember that our public patches come out at the middle of the month (ish~). In the meantime, you can always get backer access here!
I'm going to be writing the actual egg-pregnancy for the hornets next week. Hopefully it will be implemented in time for said public patch. Speaking of upcoming content, art is a commission Gardeford got for a centaur NPC he's writing for our next zone, done by Jackle0rgy.