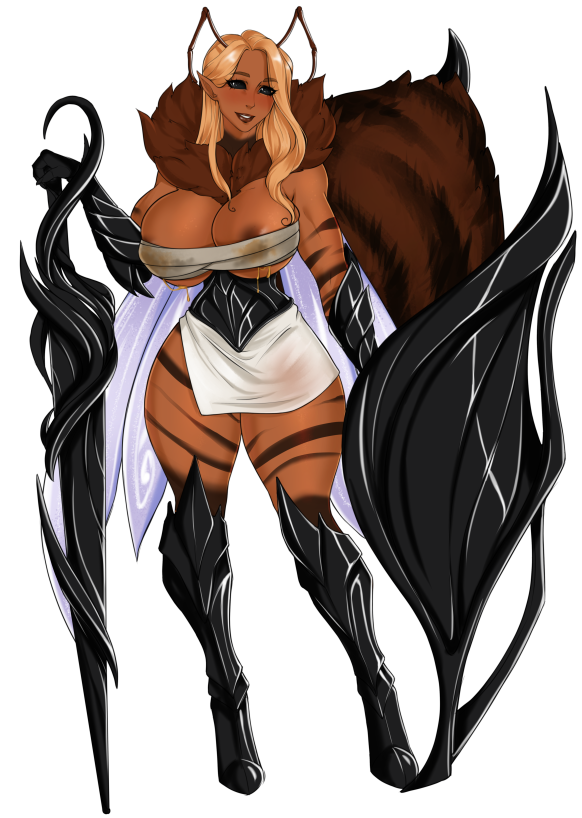 Hey guys, sorry it's been a bit, but this patch has a LOT of changes that we wanted to make sure we got right — so let's get into it!
0.3.25 Patch Notes:
New Companion: Azyrran, the Hive Knight! After purifying the hornet hive, you can speak with the queen and get her permission to court her daughter — or at least bring her with you on adventures. She's got a full slate of sex scenes, she can give you hornet eggs, and she get get you fucked up on lust-venom. Oh, but maybe don't chug too much at once or else you might end up addicted to it… (Written by SomeKindofWizard)
The Resolve system has been reworked. Your total Resolve now scales with Presence and with level. Sexiness now acts like Attack Power for Tease attacks (so 40 Sexiness = 40% more Tease damage). Resolve-damage weapons such as Eternal Delusion have had their scaling interactions revamped; it should no longer be possible to dumpsterfuck Kasyrra with resolve weapons. Emphasis on "should."
Everyone's favorite fun-sized fighter, Atugia, has had her powers reworked to make her a more effective tank. Her base damage is also somewhat higher.
After doing Gweyr's quest, you can talk to Sanders about what you learned. You can also talk to him about Liaden after they meet.
Once a week when you enter either the Frost Hound or Etheryn's throne room, a confident Ryn will come give you a surprise smooch! (Written by William)
You can now drag the Centaur Behemoth back to the Wayfort to keep him around for yourself. (Written by Wsan)
There's a chance that, while exploring the Foothills, you'll run into a centaur cavalier! It's only an introduction for now; you'll see more of this martial mare later on in the story! (Also by Wsan)
If Berwyn is your dom and you have 95+ Libido, you can now trigger a bad end via his cock worship scene. (Written by B!)
New Busts: Alante, Atani's Guards, Sorra.
What's coming up next? Well, TheObserver organized a quite sprawling Winter Ball event for the Palace of Ice, with over 70,000 words and contributions from several different writers. I believe Leek's nearly done coding it, too. If you want to take Princess Etheryn's first ever dance, or show off Cait's Jassiran bellydancing to a crowd of confused boreal elves, this is your chance!