Before I get into the nitty gritty of patch changelogs, let's talk a little about Halloween and holiday events. Some of you may remember that Poe A (and the resultant cool transformation events) popped up as special Halloween content, originally. The same thing happened with the Kashima incident. This year, to my knowledge, none of the other devs have anything special planned, so I'd like to open things up to you, the fans and fan-writers!
Now announcing the Trials in Tainted Space Hallowiener Spunktacular! 
That's right, I'm going to run another writing contest. It's been a while! Prizes are going to be way bigger than I've ever done before, so brace yourself.
You done bracing? Good. Check out these prizes:
The best-written entry will score a sweet $500, to be paid out via paypal, (or up to $300 in Steam games / Blizzard store gift cards).
Second prize will get pegged with $250 cash (via paypal), or $150 in online vidjagames.
Third prize will be pounded with $100 cash (via paypal), or $75 in online interactive electronic video entertainment through one of the aforementioned storefronts.
Any other submission we choose to use will be offered up to $50 in cash (via paypal) or $50 dollarydoodles in Steam/Blizzard fun.
Pretty spooky, right? Well, not as spooky as knowing that there's a skeleton hiding inside you at this very moment, but we try. Before you go too crazy, give the rules a gander! Word on the street is that rules are the glue that holds civilization together. I thought it was dried lube.
Tainted Space Hallowiener Spunktacular Rules:
No minimum or maximum length, but be aware that a 300 page manuscript could lose out to a five page document of pure, distilled awesome.
All content should not leave any major hanging hooks. That is to say that if you end a scene with an NPC promising something more in the next encounter, and don't write a next encounter, you'll be penalized. It should obviously conclude so that players aren't left chasing nothing.
Effective parser usage is encouraged but not mandatory. Learning all the parsers is too great a task to ask of anyone on their first go-round.
Content should not contain any content unsuitable for TiTS. This includes hyper-detailed gore, hard vore, loli, shota, etc.
Events can be sillier than normal so long as they're silly-mode only.
New costume choices for Poe A would be cool as fuck.
Employees are not eligible to enter. (Though any employee that writes Halloween stuff we can use is welcome to get a full day of pay on Halloween for the effort.)
Entries will be judged by a panel including Fenoxo & Savin, though judges are subject to change.
All entries must be submitted by October 22nd in the appropriate forum thread.
I <3 you guys.
After the break, your regularly scheduled patch notes.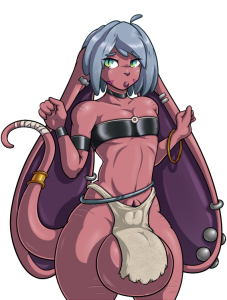 0.7.98 Changelog:
The second rare plant from Tarkus is now enabled in Azra's menu. It comes to mind that I forgot to enable it as a rare drop as well. Expect that next patch.
Jacques00 added a belly-size penalty status effect and overall reworked that system. Be sure and help us nail down all the bugs!
A new bust for Azaphel and the raskvel traps has been added, drawn by Adjatha.
Several item duplication bugs should be fixed.
A few new items have been added that can expand the size of your base inventory.