It is Wednesday my lewds! That means we on the TiTS team had our weekly meeting, and I'm granted the lovely task of relaying our progress on to you, the discerning smutsumer:
Personally I've been working on coding on William's Anno petplay event. (The player character is the pet this time.) It's a 130 page google document with numerous random events, lots of support for huskar Anno, text to support futanari variants of the character down the line, should they happen, and even a scoring system to grade you on how good of a pet you've been on your walk! Are you a good enough boy or girl to get the headpats you so rightly deserve? Find out next patch.
Geddy is still deep in the code. Last week, we discussed the inventory system near the end of the meeting. The current one isn't what you could call clean. I certainly wouldn't bring it home to dinner with my mother. Fortunately our resident draconic script-queen has been hard at work rebuilding it from the ground up to be better, cleaner, and more robust… which means touching the Creature class… which lead to the effort to better organize the Creature class functions and variables into more logical patterns – in itself a massive undertaking. This lead to some fun discoveries like a function where the variables for balls and clits were somehow swapped around, or two functions with wildly different names that accomplished the same thing in slightly different ways.
Did you think I was done talking about Gedan's work already? You thought wrong! She also implemented an automated testing system for the game that new patches will have to run through. Right now, since she's working in the inventory, she has it making sure that the game can load and arrange inventory items, but it can do so much more. We could have it actually load a save and run around on Mhenga! We could make it fight enemies! Any time new code lands, we can have the game automatically make sure that it still works correctly, and if not, prevent the new code from going in until it does! It's a whole new world! A new fantastic code to do! Programming to tell us no, and where to go, and that the cunts are creaming~! (…I'm sorry… I couldn't resist.)
The forum got some new art to replace the placeholder stuff, courtesy of Jacques00. I'm sitting on the high rez, full color versions for now in case we find a use for it later, but let me just say that Cait in a steelesuit and packing a little extra looks goooood.
Savin has been working on some content for going back to Doctor Teyaal after you've stolen the Sidewinder as a break from the infinite puppers.
Will has several projects he's intending to drop in my lap next week – like new stuff for the brothel on Dhaal, slavesuit content for Zheng Shi, and a cavalcade of CGs coming up from artists. "Like 10 various art commissions". It's a lot.
Adjatha has finished up the writing for punishment wall content (but is still going to do some editing on it). He also doodled up a lovely alien design as a result of a conversation Savin and I were having in public discord about a crossbreed of gryvain and kui-tan so that we could have gryvains with giant balls… which also lead to the thought that the half-gryvain-half-kuitan might still have internal testes too… which would then swell up, making their asses gigantic if they haven't gotten off in a while. This might get developed into a character somewhere… see attached sketch :3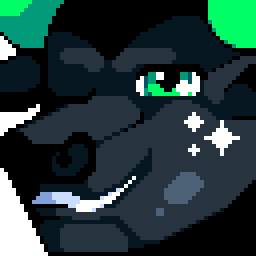 If you like the game and like what we're doing, you can always support us on Patreon or SubscribeStar! And if not, well, the free builds will still be here.