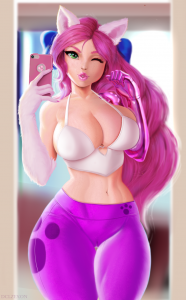 I, too, am finishing off a Halloween thing — I ended up not finishing it so I could grade y'all's submissions. I'm a little shy of 12000 words into mine, so almost done!
I'm also totally not making this post mostly to show off some great art DCL made for me of a bimboy Saendra. Totally not.
Anyway, back to the grind for me! Gotta finish this up so I can dive back into some delicious new Syri content.
P.S. Last week we finished our two-year+ campaign of Corruption of Champions&D (featuring Fenoxo, Adjatha, and myself from FenCo, plus friends). You can now watch the entire thing from session 1 to 103 on my youtube channel. Don't be intimidated, It's only like 400something hours long.